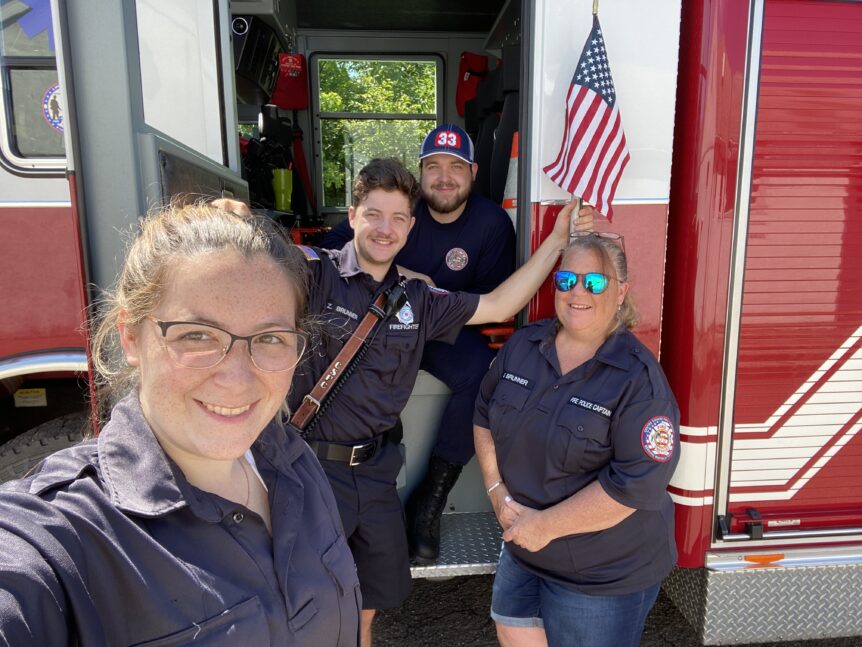 Brunner Family Serves Community Together at CSFC
Sharon Whittock Brunner, and her three children: Jessica, 29, Tyler, 27, and Zayne, 23, all joined Centre Square Fire Company as soon as they could at 16-years-old.
Firefighting is not only in the Brunners' blood, but the family has a deep history in Centre Square Fire Company. Sharon's great-grandfather, F. Clifford Bernhard, was one of 35 founding members of the fire company in 1913. Her grandfathers and father were all members, as well as her grandmothers and mother who served in the ladies auxiliary.
Sharon joined the ladies auxiliary at 16 years old and when her kids were older, she joined the fire police in 2009. She became Fire Police Captain in 2016, keeping firefighters, police, first responders and the public safe at emergency scenes.
"It's fun working with my kids and being part of something they enjoy so much. If we weren't all volunteers, I don't think I would see them as often," said Sharon, who serves on multiple committees and is the Secretary of the Relief Association. "When they start something, they strive to be the best they can be."
Sharon's oldest child, Jessica, joined the ladies auxiliary at 16-years-old, and the fire police at the age of 20. She then started classes at the Montgomery County Fire Academy and completed her Firefighting I certification at age 22.
"I made a lot of friends going through the fire academy and working with other firefighters from different stations on calls," said Jessica, who is currently the Secretary of Centre Square Fire Company. "As a volunteer, you form a special kind of bond with people you wouldn't get to meet otherwise."
As a female firefighter, Jessica says all the volunteers have been supportive of her.
"When you think you can't, you can," she said. "And if you put the work in, volunteering is worth it. The volunteers will work with you and what you're capable of. It doesn't matter if you can lift 10 pounds or 100 pounds – you're never alone. There are always people who can help you."
A volunteer who helps Jessica a lot with training is her brother, Tyler, who became a Captain in January of 2023. He also serves as Vice President of the fire company and President of the Relief Association.
"Working with 30 people who are unpaid, you have to figure out ways to problem-solve uniquely," said Tyler. "All the technical skills you learn as a firefighter are problem-solving skills."
Tyler's younger brother, Zayne, was promoted to Lieutenant in January 2023 and holds a position as Trustee.
"My brother and I work together a lot," said Zayne. "There's little competition between us sometimes, but I also know that he's someone I can always trust."
Zayne and Tyler both recalled a fire at the Normandy Farm Hotel where they were the first ones to arrive on scene. The call started as a fire alarm and Tyler upgraded the call to a building fire. Jessica also says there have been calls with only her family responding from Centre Square.
"They'll say 'The Brunners are coming,' and it will be the three of us on the fire truck.  Tyler is driving and my mom is right behind us with the fire police truck," she said.
Volunteering with family is similar to a work environment with responsibilities to complete and carry out orders, and being family adds an extra layer to the Brunners' experience.
"I would trust all of the firefighters with my life, but there is an extra level of trust with my brothers and my mom," said Jessica. "They are people who will give anything they can to help and that's the kind of attitude they have toward volunteering."
Fighting fires as a family, they worry about each other's safety.
"You worry as your children reach different milestones in their lives and this does not stop when they become adults" said Sharon. "It can be scary at times; you don't know what's going to happen, and it's always in the back of your mind."
When reporting to fire calls, it is difficult to monitor her children during the call but she has trust in the officers, and brothers and sisters of the fire service to ensure their safety.
"The late Chief Lee Miller knew them since they were young kids and always had their backs. He made sure they weren't getting into situations they couldn't handle," said Sharon. "I feel confident and proud that Tyler and Zayne will live up to their officer roles and equally as proud of what Jessica has accomplished."
The Bunners hold various positions at the fire company and encourage other volunteers to join.
"They are very active; they assume great responsibility, which can be a good and a bad thing," said Tyler. "Many members who have been with the company for a long time start holding multiple positions. More volunteers will help take some of the burden off those members who wear two to three hats".
Volunteering takes dedication and commitment, but Tyler says "there is a misnomer that volunteering requires a certain time obligation. When you join as a member, you are still able to maintain time with friends and family,"
Monday nights are for training and skill development at the fire house in collaboration with the fire academy on specific dates. The more training a volunteer receives, the better prepared they are to perform the skills as a firefighter.
In addition to helping the community of Whitpain Township and surrounding areas, what the Brunners enjoy most about volunteering is the people.
"Centre Square is a big melting pot of people," said Zayne. "Everyone knows what they're doing, but because we are all volunteers, everyone brings a specific skill set to the table. There's a lot of creativity when troubleshooting."
"The fire company is a big family who may not always agree with each other," adds Tyler. "But at the end of the day, you all trust and support each other."
Centre Square Fire Company is seeking volunteer firefighters, junior firefighters, fire police and administrative members to join the team.
"As a community, it can never hurt to have more people helping and available to protect the community," said Zayne. "You'll create lifelong friendships that extend outside the firehouse."
Additionally, no prior experience is required to join. Centre Square Fire Company provides training and gear.
"Learn to trust yourself and not second guess yourself," said Jessica. "Commit to what you're doing. After all the training, you are probably doing the right thing."
To sign up to volunteer, fill out an inquiry form at CentreSquareFire.org and a volunteer will be in touch soon.