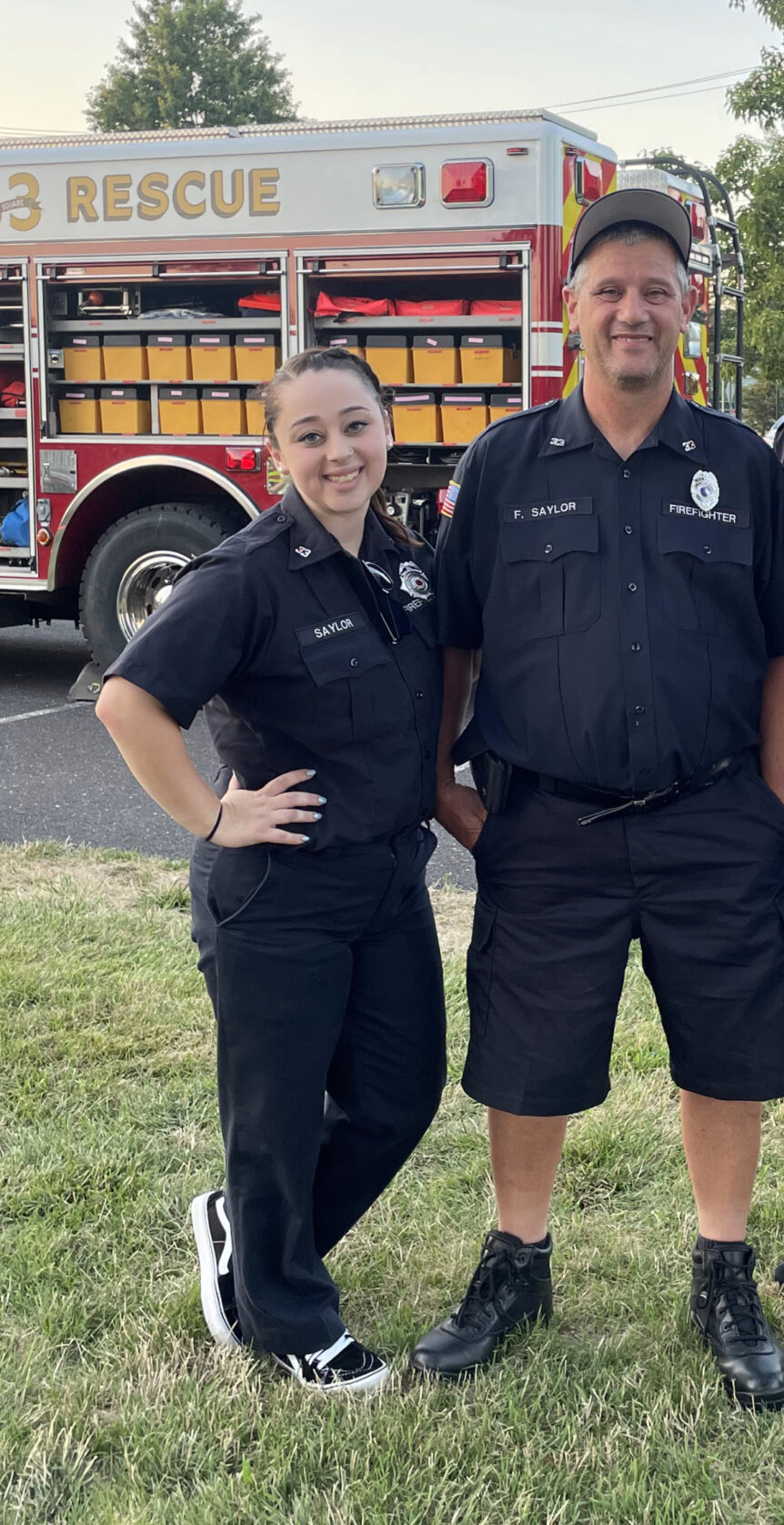 Daughter Follows in Father's Footsteps at CSFC
Fred Saylor started bringing his daughter, Gabriella "Gabbie" Saylor, to Centre Square Fire Company since she was two years old.
"I loved when my father took me to the firehouse; it was one of my favorite places growing up," said Gabbie.
As soon as she was 16, Gabbie joined Centre Square's junior firefighting program and has been volunteering for seven years now. She serves as a firefighter and also handles hall rentals.
Before Gabbie could fight fires inside a burning building, she needed to complete her Firefighter I certification. Training is broken down into four sections: Introduction to the Fire Service, Fire Ground Support, Exterior Firefighting and Interior Firefighting.
"Training for my Firefighter I certification was challenging, but fun and exciting at the same time," said Gabbie. "I met tons of new friends, who I now see on different fire calls, and it is a great time to do what I love with all my friends."
One of Fred's proudest moments was watching Gabbie graduate from the Montgomery County Fire Academy with her firefighting certification.
"She's following in my shoes and that's one of the greatest things," he said. "I couldn't be more proud as a father."
Fred joined Centre Square Fire Company 35 years ago, inspired by friends and family, including his Uncle Stan who was a volunteer at Conshohocken Fire Company #2. Fred currently volunteers as fire police, but has also served as a firefighter, sergeant and trustee.
"Joining is the best thing I have ever done," he said. "I enjoy helping people, learning new things and making new friends."
Fred looks forward to weekly drill nights when his friends are there and has fun working with them as a team.
"Volunteering is a learning experience," he said. "It's seeing what's out there, it's building responsibilities and helping the community."
Most of all, Fred enjoys spending quality time with Gabbie at fire company events.
"We always have new and exciting things to talk about," said Fred. "She is dedicated to the fire company and the job. She can rise to do the challenge of different skills and situations."
One of Gabbie's memorable training nights with her dad was practicing vehicle fires on the turnpike.
"It is not often that my dad gets to watch me train, but that night he did," said Gabbie. "After I took my turn, my dad exclaimed how proud of me he was. Making my dad proud is my number one goal."
Gabbie loves volunteering with her dad and learning from him. With her dad serving as fire police, Gabbie also knows he will keep her safe on calls.
"My dad is my best friend," said Gabbie. "When there is something, I need help with or have a question, I can ask my dad and he will help me or give me the answers."
As a female firefighter, Gabbie says women are a valuable part of the fire company and have a lot to offer the fire service.
"I would tell new female firefighters, never give up. You must work hard, persevere, and dedicate your time," said Gabbie. "It is worth it when you graduate with your Firefighter I certification and can say you are a firefighter."
As volunteers, firefighters are continually learning and honing their skills. Fred has personally benefited from leadership skills, which has helped him teach children in the community about fire prevention, while Gabbie has benefited the most from teamwork.
"At Centre Square, no matter the call or event, the members work together to get the job done," she said.
Fred and Gabbie encourage the community to consider joining their second family at Centre Square Fire Company. Volunteers are needed in the following roles: firefighters, junior firefighters (ages 16-17), fire police and administrative members.
To learn more about Centre Square or sign up, visit www.CentreSquareFire.org.